New Student Giveaways Have Arrived!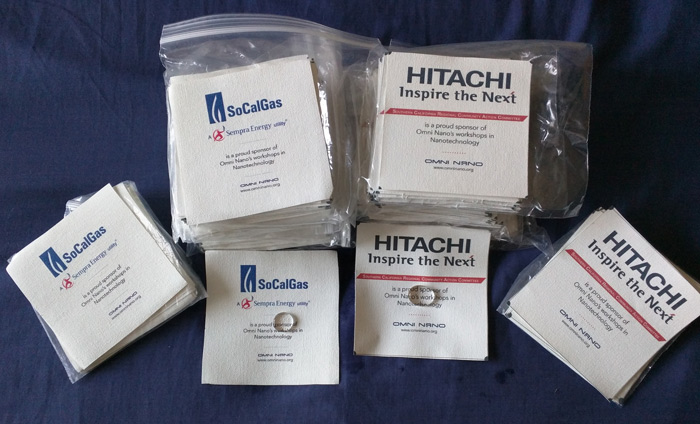 It's no secret that schoolchildren love giveaways and prizes. (Don't we all?) Our super-hydrophobic cloths are no exception – in fact, they're usually the most popular part of our Discover Nanotechnology workshops! (We commonly hear feedback like, "My favorite part about the workshop was the super-hydrophobic surfaces!") Best of all, when students can experience nanotechnology in the palm of their hands, they become fascinated with STEM.
Think about it: imagine spilling a drop of water onto a cotton cloth. What happens next?  We all expect the cotton to soak up the droplet, right? Wrong! A special nanotechnology-enabled coating causes the droplet to simply bead on the surface of the cloth, rather than being absorbed into it. Crazy cool!
But it doesn't stop there; as one workshop attendee noted, the possibilities are endless: "The best part of today's workshops was learning how nanotechnology has made surfaces ranging from concrete to paper hydrophobic."
Our sponsors are making the difference for STEM education! Special thanks to Go Graphics & Printing Co. for printing, UltraTech International for coating, and Hitachi and SoCalGas for sponsoring these fun yet vital "freebies."