Bright Star Students: "I Loved Everything About the Workshop"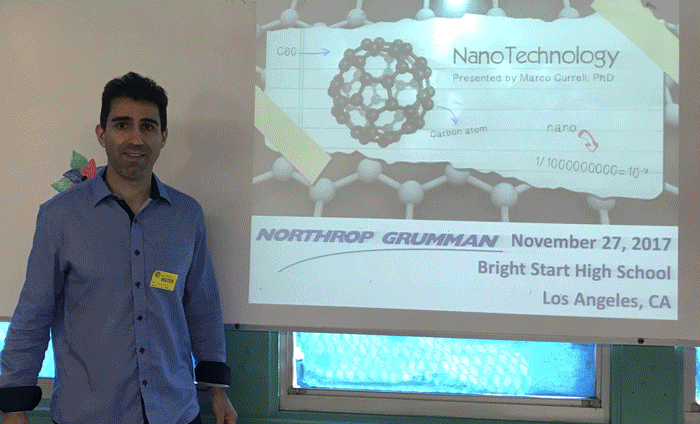 With the generous support of Northrop Grumman, Omni Nano presented four workshops to a total of 140 students today at Bright Star Charter Academy in Los Angeles, CA. Many participants expressed keen interest in the medical applications of nanotechnology, such as targeted drug delivery to kill cancer cells while retaining healthy cells. One student remarked, "[I want to] spread all the information to our generation so that this could… improve medicine fields in our future." When asked to narrow down their favorite part, several students commented, "I loved everything about the workshop."
The principal and hosting teacher even surprised our founder, Dr. Marco Curreli, with a Certificate of Appreciation for all of Omni Nano's efforts at Bright Star. Thank you! We look forward to our next visit and to inspiring even more students.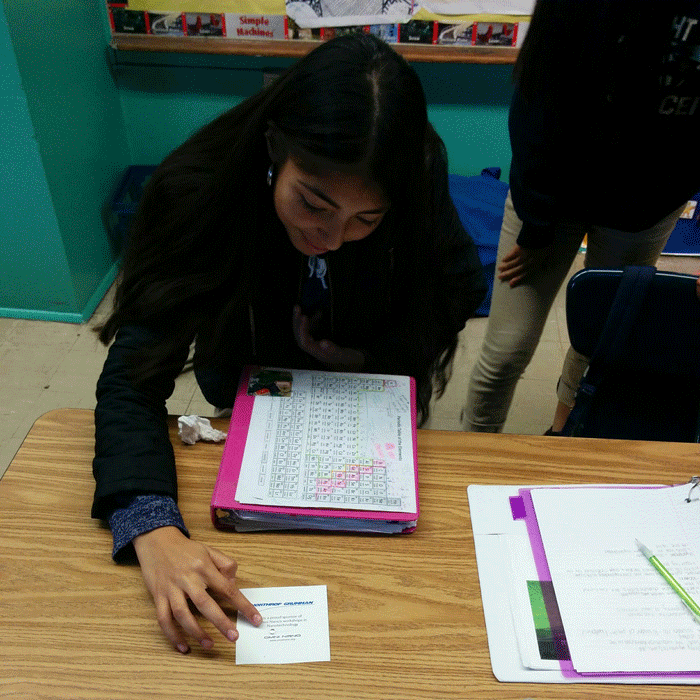 Selected student comments:
My favorite thing about today's workshop was learning about the different types of things nanotechnology can do.
My favorite thing about the workshop was when we were able to see a physical version of nanotechnology. It opened my eyes and allowed me to understand that nanotechnology does exist and is not something you simply learn on TV. I also learned how much a scientist working in the field of nanotechnology makes which is interesting.
Mostly when it was said that nanotechnology could be included in modern day medicine and possibly medical procedures it was very interesting and it was my favorite topic since then.
My favorite thing about this workshop was the interesting facts it had about nanotechnology.
My favorite part of the workshop was when the instructor demonstrated the use of nature in order to incorporate it into technology.
One thing that I liked about this workshop was that I was introduced to something I did not know before in depth and I believe that the teacher has motivated me to excel in my STEM classes.
My favorite thing about the workshop is when he showed us all the purposes of nanotechnology and the way it's incorporated in our daily lives.
I would like to know more information about nanotechnology in an early time so that I can major in this in college. I would like to know about interns because I not only want to learn, but also spread all the information to our generation so that this could basically improve medicine fields in our future.
I liked the fact that nanotechnology is basically the future of science and medicine. With nanotechnology, water filters are possible and, probably even soon, chemotherapy will be safer to do because of nanotechnology.
My favorite thing about today's workshop was that I was able to learn about nanotech. I learned something new that I did not know existed before.
Thank you so much for coming in and giving us knowledge about this career and information about how nanotechnology works and is on an everyday basis and the way they examine labs to find out the resources they need.
A favorable idea about the workshop was the fact that it will improve the cure for cancer and other various diseases.
The better and deeper understanding of what nanotechnology is and how it would help us in the future or the present.
I liked most that he gave a real life example on how nanotechnology is affecting our day to day lives.
My favorite thing is the super-hydrophobic surfaces because they can hold the water up until it's popped.
Being able to understand the effects of nanotechnology. Being able to see how the smallest things make the biggest differences in our life.
My favorite thing about this workshop is learning that nanotechnology is like altering materials at an extremely small size. I also like the idea of having a super-hydrophobic surface because it can be applied to almost everything, but with some consequences to keep in mind.
My favorite thing was knowing that nanotechnology is something that has become a part of our lives and will continue to create a greater need in human essentials.
I liked learning about all the ways nano-technology could improve our way of life.
I liked to see that the medical field will benefit greatly from the use of nanotechnology.
My favorite thing about today's workshop was interacting with the technology provided by the instructor. I found it interesting of what nano-technology can do.
My favorite thing about today's workshop was when the presenter presented new ideas on nanotechnology and how it can change the world we live in today. Nanotechnology is revolutionizing the world we live in and this is what I am interested in.
The workshop demonstrated super-hydrophobic material. It was the first time I have ever seen nanotechnology applied like that.
I loved everything about the workshop.
The enthusiasm of the presentation [was my favorite part] but overall this presentation was phenomenal.
I would love to learn more about bio-mimicry.
That I was able to learn about nanotechnology and understand that it already plays an important part in today's world.
I loved learning about how nanotechnology works and how convenient it is. I also loved learning about what it could be used for such as curing cancer or even repelling liquids.