Omni Nano at Valley Academy of Arts and Sciences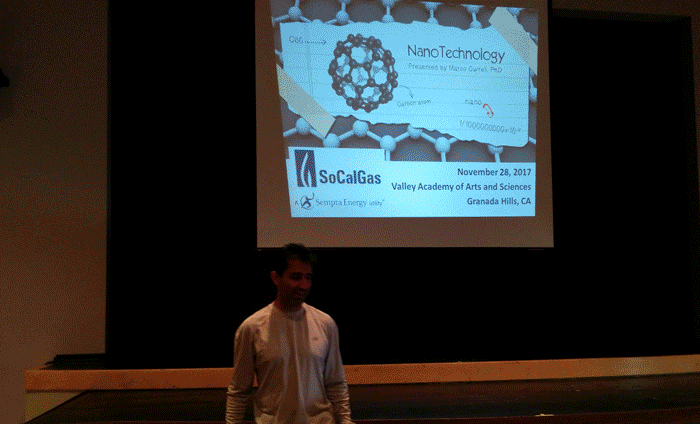 Today, with the generous support of SoCalGas, Omni Nano presented our Discover Nanotechnology workshops to 160 students at the Valley Academy of Arts and Sciences in Granada Hills, CA. Our STEM workshops are a fun, interactive way to introduce high school students to the cutting-edge science of nanotechnology and to inspire them to pursue an education and professional career in a STEM field.
One student remarked, "My absolute favorite part was learning how [nanotechnology] could cure cancer. It gave me a lot of hope for the future and made me excited to learn more. Thank you for coming in and teaching us. It was a cool workshop!" See what other students had to say below!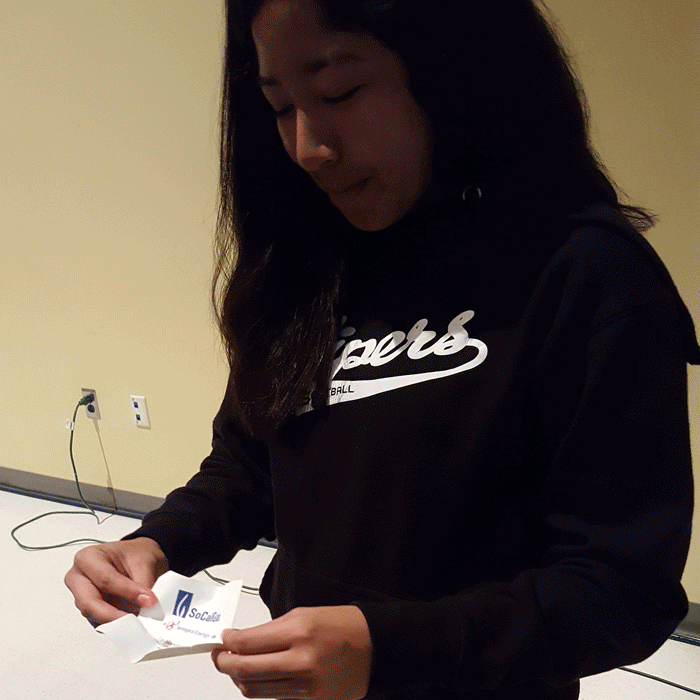 Selected student comments:
Nanotechnology is very interesting. My favorite part was learning about all of the things nanotechnology is capable of.
This new technology is gonna change our world forever. This workshop was very intriguing. I'm really interested in this topic now.
I thought the presentation was very interesting and helped me learn more about something that might become very important in the world around me.
I really admire Elon Musk and technology is and will be the future. I want to be an engineer and I think learning more about this technology and making it, will help the future.
I loved how much evidence and educational reference was provided for the purpose of describing Nanotechnology.
This workshop helped me gain a better understanding for the future of scientific innovation and resourceful thinking.
My favorite thing is that with hydrophobic [coatings] it can make lots of things able to not get messy and it was so cool that I got to experience it with my own eyes.
I learned so much and it was really interesting to see how nanotechnology works and how much of it already comes in play in our lives.
My favorite thing [was] learning that the richest person in LA wasn't an athlete and it was scientist. Another favorite from the workshop was seeing the patch do its job and repel water using nanotechnology. I liked everything that I saw during this presentation.
I really enjoyed this workshop and would love to get to know more about this and see how far it will go and what else it could do to further make technology better.
I loved how the smallest thing can be seen and there is technology in the process for the better. The speaker who came in explained everything so well.
My favorite thing about today's workshop was when we got a chance to experiment with the hydrophobic sheets because I have never seen one and it was so cool to see water stay solid. This presentation was highly informational and I appreciated the simple way nanotechnology was introduced to us students.
I loved the interactive part – it really showed me just how effective nanotechnology is. I loved really everything – it taught me so much.
The fact that nanotechnology is so new and we are already doing so many amazing things with it.
I love nanotechnology. I actually plan on studying computer programming and game design in college.
When I learned about how nanotechnology works and where we can see nanotechnology. I learned that nanotechnology is really important in daily lives of all people. I loved how the presenter made the workshop hands on, and the video he showed us on hydrophobic materials and how they function. Everything was prepared and organized.
I enjoyed the presentation I wish we could have more like this. It was fun!!!! I loved that we got to learn about technology that I've never heard of before. I liked the whole presentation.
The introduction of effective cloaks, and the topic of medical uses of nanotechnology and the money it generates. That we were never told of this beforehand. I truly dig the presentation and the topic, but I feel there could be more on the education required to work on nanotechnology and as well as all the jobs that will have open doors to such degrees.
My favorite thing about today's workshop was learning about what nanotechnology is, as well as getting a better understanding of nanotechnology. I also liked learning about hydrophobic liquid and what it can do to change many things.
My absolute favorite part was learning how it could cure cancer. It gave me a lot of hope for the future and made me excited to learn more. Thank you for coming in and teaching us. It was a cool workshop!
It was cool getting to know more about nanotechnology. I enjoyed watching this presentation because it was very interesting and I learned new things.
I really enjoyed the little test with fabric and the water drops rolling around on the surface. It was very interesting and entertaining. It was a great presentation. I've learned more than I have ever known about nanotechnology.
Seeing the nanotechnology with my eyes and realizing how this could be so useful and beneficial.
I learned a lot about how nanotechnology is involved in our every day lives.
I found this really interesting even though science and STEM presentations in general usually don't keep my attention. I feel like I learned a lot.