Inspiration Strikes Chemistry Classes at University High School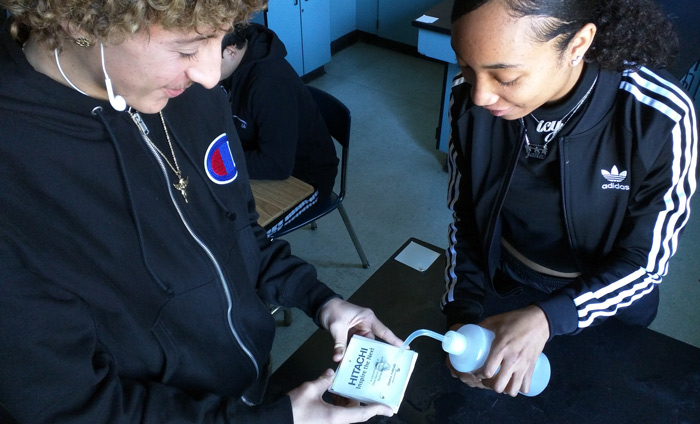 It's always a pleasure to visit the enthusiastic learners at University High School. University is unique among Los Angeles high schools because it is one of the only schools that offers a full elective course in Nanotechnology. We had the honor of presenting our last workshop of 2018 to their Nanotechnology B class of 25 students who are "hungry" for more nanotechnology knowledge and a complete, standardized textbook to supplement their studies.
Today, we delivered the first two workshops of 2019 to 60 passionate chemistry students. They had a great time playing around with our popular hydrophobic (water-repellent) fabric samples and several expressed interest in enrolling in Nanotechnology for the next term.
We were excited to introduce University High School students to Hitachi's powerful Scanning Electron Microscope, thanks to the Hitachi High Technologies Inspire STEM Education Program. What a wonderful way to begin the new year!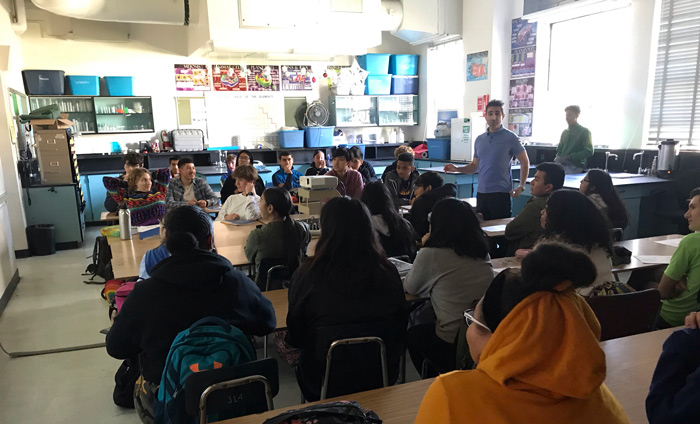 Feedback from our workshop participants included:
"My favorite thing about the workshop is learning about how important and useful nanotechnology is for the future of mankind. There are limitless possibilities to what we can invent in order to improve our living conditions."
"Learning about super-hydrophobic surfaces really intrigued me because I haven't ever seen anything like that before. Ever. In my 15 years of existence…"
"My favorite thing was seeing the super-hydrophobic surfaces deflect water. I want to get some of that for my shoes."
"I liked how I got to learn more about how the technology works!"
"I got to learn more about nanotechnology and it was really nice reading more about it."